Happy New Year, everyone!!!

My number one resolution is to be more dedicated to posting here. I'll be backlogging a lot of stuff with pictures and then I will make post to link to everything chronologically.

But here is something I'm proud of. My first article in a national newspaper! I've written for local papers and school papers but this is a wider scale. I don't know how many people will read it but it's definitely a good step on the path of what I'd like to do in the future. So I'm very happy!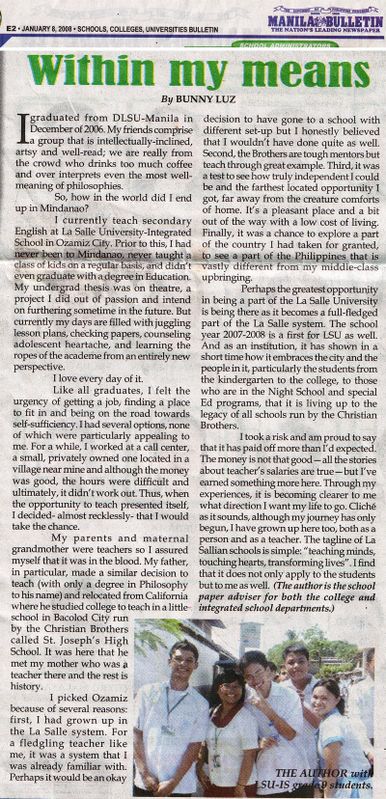 The article that was printed was edited for length. Read the full article under the cut.




Within my Means by Bunny Luz
January 8, 2008, Manila Bulletin.





I graduated from DLSU-Manila in December of 2006. My friends comprise a group that is intellectually-inclined, artsy and well-read; we are really from the crowd who drinks too much coffee and over interprets even the most well-meaning of philosophies.



So, how in the world did I end up in Mindanao?



I currently teach secondary English at La Salle University-Integrated School in Ozamiz City. Prior to this, I had never been to Mindanao, never taught a class of kids on a regular basis, and didn't even graduate with a degree in Education. My undergrad thesis was on theatre, a project I did out of passion and intend on furthering sometime in the future. But currently my days are filled with juggling lesson plans, checking papers, counseling adolescent heartache, and learning the ropes of the academe from an entirely new perspective.



I love every day of it.



Like all graduates, I felt the urgency of getting a job, finding a place to fit in and being on the road towards self-sufficiency. I had several options, none of which were particularly appealing to me. For a while, I worked at a call center, a small, privately owned one located in a village near mine and although the money was good, the hours were difficult and ultimately, it didn't work out. Thus, when the opportunity to teach presented itself, I decided- almost recklessly- that I would take the chance.



My parents and maternal grandmother were teachers so I assured myself that it was in the blood. My father, in particular, made a similar decision to teach (with only a degree in Philosophy to his name) and relocated from California where he studied college to teach in a little school in Bacolod City run by the Christian Brothers called St. Joseph's High School. It was here that he met my mother who was a teacher there and the rest is history.



I picked Ozamiz because of several reasons: first, I had grown up in the La Salle system. For a fledgling teacher like me, it was a system that I was already familiar with. Perhaps it would be an okay decision to have gone to a school with different set-up but I honestly believed that I wouldn't have done quite as well. Second, the Brothers are tough mentors but teach through great example. Third, it was a test to see how truly independent I could be and the farthest located opportunity I got, far away from the creature comforts of home. It's a pleasant place and a bit out of the way with a low cost of living. Finally, it was a chance to explore a part of the country I had taken for granted, to see a part of the Philippines that is vastly different from my middle-class upbringing.



It is nonstop hard and challenging work everyday. For someone with no formal educational training, I'm grateful for the chance to be thrown into the field headfirst and to learn everything on the fly; it is never boring. To have a support system in the form of co-faculty and administration that have all benefited from the La Salle education and to be a part of in-service training has helped me deal with teaching on a daily basis. To be able to work constantly takes my mind off homesickness and boredom, to a point where they no longer bother me in the least.



There are difficulties with working in this area too, particularly the language barrier. As an English teacher, I find it ironic that the students here are bent on finding a job that will send them out of the country but are unmotivated to practice the language skills that will bring them there. In a sense, my lack of knowledge in the vernacular (in this case, Bisaya) does force my students to respond through a need to communicate. At the same time, lacking knowledge in the language can make it a little hard to get around. I've picked it up quickly out of the same need to communicate; in many ways, I, too, am a student here.



There are social barriers to consider, also. It is a constant source of frustration to be dealing with students and adults who equate success with money. Particularly in a city like Ozamiz where everyone seems either very young or very old (as many of the students have one or both parents working abroad), it is hard for them to reconcile their grades as their tickets to greener pastures, let alone inspire a will in them to stay for the good of their country. In other words, it's hard to get them to concentrate less on the "where" and more on the "going". Still, despite the usual disciplinary and academic problems and the usual problems in dealing with children going through crucial stages of their development, it is ultimately rewarding to discover that they are still bright and eager to learn.



Perhaps the greatest opportunity in being a part of the La Salle University is being there as it becomes a full-fledged part of the La Salle system. The school year 2007-2008 is a first for LSU as well. And as an institution, it has shown in a short time how it embraces the city and the people in it, particularly the students from the kindergarten to the college, to those who are in the Night School and special Ed programs, that it is living up to the legacy of all schools run by the Christian Brothers.



I took a risk and am proud to say that it has paid off more than I'd expected. The money is not that good—all the stories about teacher's salaries are true—but I've earned something more here. Through my experiences, it is becoming clearer to me what direction I want my life to go. Cliché as it sounds, although my journey has only begun, I have grown up here too, both as a person and as a teacher. The tagline of La Sallian schools is simple: "teaching minds, touching hearts, transforming lives". I find that it does not only apply to the students but to me as well.


--
Originally from Manila, Bunny Luz is a first time faculty of La Salle University – Ozamiz City, teaching in the Integrated School. She is also the school paper adviser for both the college and integrated school departments.



.